Waiting for the Tour de France to zoom past starts the day before on a mountain stage.

By the morning of the stage, every feasible parking spot on the road edge is taken, and there are parking lots in the pasture.

How to encourage Richard Virenque, predicted winner of the spotty (polka-dot) jersey for the seventh time.
(Note the fantastic scenery and the crowds at 12.30, one and a half hours before the arrival of the publicity caravan.)

Encouraging the leading hill-climber in detail! Road graffiti of this type is a major, tradition on the Tour. You will literally run across it all over France, many months after the Tour is a forlorn memory. One of the many ways to productively use your time, and to express your artistry, while awaitng the main event.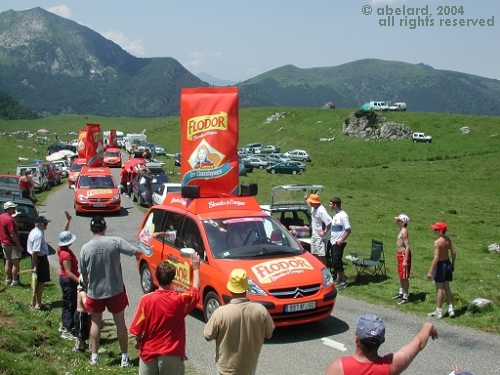 The publicity caravan arrives, seen against the spectacular Pyrenées scenery.

'Gifts' from the Tour publicity caravan.

One of the bike cameramen, who film the race for French television.

Last man on the day's stage, Jimmy Casper, followed by one of his team cars.