On first arriving in France - driving
the French umbrella & Aurillac
the forest as seen by francois mauriac, and today
places and playtime
the Citroën 2CV:
a French motoring icon
Marianne - a French national symbol, with French definitive stamps
the calendar of the French Revolution
Mardi gras! carnival in Basque country
What a hair cut! M & french pop/rock
Country life in France: the poultry fair
The greatest show on Earth - the Tour de France
Short biography of Pierre (Peter) Abelard*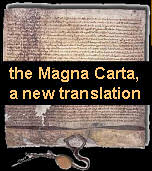 Europe enthroned with cupids
[from 1992 collection]
Mogul horses
[from 1992 collection]
Indian fabric remnants
[90 x 90 cm, from 2011 collection]
65 grams of silk from 250 cocoons, 90 centimetres square. During the twentieth century, the Hermès scarf has become a standard for good workmanship and discreet luxury, requiring up to two years of work to produce a collectible work of art that is an expression of its epoch.
From 1837, Thierry Hermès made harnesses and saddles for a privileged clientele. Boots, jewelry, home decor items, and silk scarves were added to the company's range. In 1920, his grandson Emile included luggage.
Horse-power transport was replaced definitively by fossil fuel-powered transport in the early 1900s. Then, Emile handed over the company to his son, Louis-Philippe. He turned to satisfying the desires of those wrist watch-wearing Bright Young Things of the Roaring Twenties who travelled, hunted, played golf.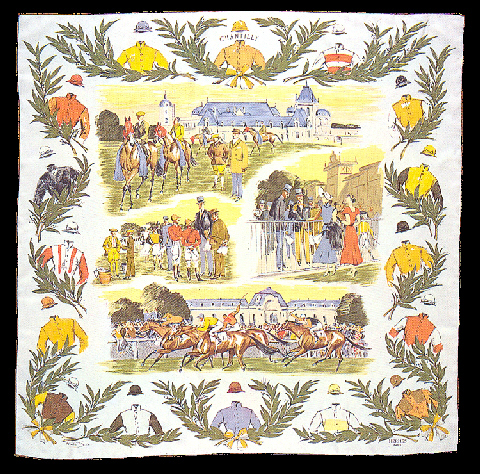 The race course at Chantilly [from 1992 collection]
"Whether one thoroughbred can run faster than another does not have earthshaking significance, but it is essential that there be places where the human art of living well can reach the pinnacle of elegance. The Chantilly race course is one of those rare spots where both the Turf and true refinement are celebrated in meetings such as those depicted by the painter Taquoy."
The first scarf square to accompany the Hermès collection was produced in 1928, inspired by that worn by Napolean's soldiers. To be 'of its time', the scarf was printed with the names of cars. It was a big success; in due course, resulting in a workshop, later a factory, for scarf production being set up at Lyon in 1937, Hermès' centenary year.
Each design requires
nine to twelve months of research and development;
fifty-odd designers,
ideas drawn from styles such as baroque,
contributions from artists such as Matisse.
Six to eight weeks are required to meticulously prepare as many silk-screen printing frames as there are colours. For instance, in 1994, the "Celebrations of the Sun-King" required 1,200 hours of work to make its 35 frames.
The printers prepare their pigments to make a palette of tonnes of printing inks. The Brazilian silk is spread out on heated tables 150 metres long. This allows a batch of 100 squares, comprising forty colours, to be printed. After printing, seamstresses roll and stitch the hem of a square, by hand, in 30 to 45 minutes. The Lyonnaise factory can produce 40,000 scarves in a week. Every year, there are two collections, each of a dozen designs, of which four to six are classics with the colours updated.
Crossbow harnessing
[from 1992 collection]
Emblems of Europe
[from 1992 collection]
The most sold designs include "Gala brides" (70,000 examples sold). The grand classics, such as "Feathers", "Spurs", "Keys", are recolourised regularly. There are also limited editions for particular events.

classic Keys scarf - orange colour-way
from Hermès 2006 collection
Since 1937, Hermès has marketed 25,000 scarf designs. The absolute record, attained at the end of the 1980s, was 1.123 million scarves bought in one year with, at times, one scarf being sold every 20 seconds somewhere in the world.
In 1956, a Hermès scarf was shown on a British stamp in 1956, worn by Elizabeth Windsor, and another on the cover of Life with Grace Kelly. Later, the singer Madonna worn one as a bustier. Other famous wearers include Audrey Hepburn, Jackie Kennedy, the duchess of Windsor and Maria Callas. I doubt that any woman who can afford it does not own at least one or two examples of this ultimate fashion accessory of 'good taste' and beauty.
A Hermès scarf is worn in many ways: on the head, round the neck, on the shoulders, as a waist sash on jeans, hunging from a shoulder bag. Just note that silk is incredibly slippery and the scarf, however worn, needs to be secured well (with knots, brooches, under loops for belt or scarves), or it will slip quietly away, never to be found by its owner. Hermès offers two pdf documents with very clear and pretty illustrations, available through this javascript pop-up window, illustrating numerous methods for wearing their scarves.
The price in 2004 of a new Hermès scarf was 245 euros (approx. 245 $US/£165). Secondhand scarves can cost from 150 euros, up to 2,000 euros for the most collectable. An American collector is said to own 800 scarves.
Note that in 2011, a 90 x 90 cm silk square costs 292€. Hermès now also makes scarves that are 70 x 70 cm [230€] and 140 x 140 cm [580€].
Be careful not to frame and display a Hermès scarf, this will damage it as the colours fade in sunlight. Rather, keep it folded in its box when not being worn, and take it out, unfold and admire the work of art.
Note the clean modern lines in these designs.
ferris wheel
giraffe family
harnesses