Rampe mobile (moving ramp) at Biarritz, about 1906
exhibitions
The World Fair of 1889, when the Eiffel Tower was opened to the public, and the Universal Exhibition of 1900 put Paris and France on the map as lively, expanding places in international society. For the Universal Exhibition, many new buildings were erected for the exhibition, often lit by the then novel electric lighting, while gas lamps illuminated the streets. Thus, Paris became an early City of Lights.
These major exhibitions were symbols of the Belle Epoque.
women's fashion
The Belle Epoque was marked, particularly among the wealthier, by particular dress styles.
1890-1900 Marked by leg of mutton sleeves, very small waists and skirts flared like a cone. Often, women wore an ensemble of a tailored short jacket and skirt - a suit.
1900-1907 Better-off women wore corsets which altered their silhouette to an S-shape. High-collared necks during the day gave way to very low decolleté scoop necks in the evening. Sleeves were wide and loose, held in by a wrist cuff.
1908-1914 Corsets extended downwards, to make the body look much slimmer and willowy.
Fashion Era is an impressive web site with sections on fashion from many historical periods.
art, particularly impressionism
The cultural scene flourished and took on new forms with Impressionism and Art Nouveau, the realistic novels of Gustave Flaubert and Emile Zola, cabarets, the French Cancan.
After 1880, Neo- or Post-Impressionism outgrew the school of painting, that had arisen first in France, called Impressionism.
Impressionists had burst onto the French art scene in the 1860s. They painted in a fresh new style with colour, light, strong brush strokes, compositions taken directly from life and painted in the open air, not keeping to accepted formal rules of sombre presentation and historical and religious subjects, painted only indoors in a studio.
The Impressionists' new style was rejected by the establishment in the guise of the Paris Salon, managed by the Académie des Beaux-Arts and founded by Emperor Napoleon III. However, it was Napoleon III who, in due course, supported the alternative Salon des Refusés - Exhibition of the Refused - so the general public could decide for themselves the merit of the new painting style.
Impressionists in France included Eduard Manet, Claude Monet, Pierre Auguste Renoir, Alfred Sisley, Paul Gauguin, Edgar Degas, Camille Pissarro, Berthe Morisot, Armand Guillaumin, Frédéric Bazille.
Neo-Impressionists in France included Georges-Pierre Seurat, Camille Pissarro, Paul Signac, Charles Angrand, Maximilien Luce, Henry Edmond Cross.
The great radical Dutch painter, Vincent Van Gogh, was a pioneer of a movement known as Expressionism. He lived in France from 1886 until he died there in 1890.
art nouveau
The creators of the Art Nouveau [New Art] had the ambition to break ties with the past, and to invent forms of art which would employ new techniques and new materials. Art Nouveau would be expressed in an original style, without precedent.
The source of paramount, sometimes exclusive, inspiration was nature and its seasons. Everything in the choice of the lines and forms was provocative, coming very close to disrespecting tradition. All lines were based on a stylisation of plants.
Art Nouveau was both a reaction against the established culture of historical art and a response to the Industrial Revolution, with its new materials and techniques, and sometimes shoddy standards of production.
This new artistic movement encompassed many areas of everyday life as a "total work of art", or Gesamtkunstwerk: buildings, furniture, textiles, clothes, and jewellery. These were all designed to conform to the principles of Art Nouveau, which started in about 1890 and ended in 1914 with the coming of the Great War.
It is thought that this movement acquired its name from a shop in Paris, also called Art Nouveau and opened in 1895.
"It is always from Nature we must seek advice", said in 1899 by Hector Guimard, architect and designer of many Paris Metro entrances. The Art Nouveau designers and artists were attracted by the linear qualities of plants and their expression of an organic force. Plants preferred were iris, umbelliferae, water lilies, sometimes made more stylised, with designs inspired by the stems rather than the flowers. There was also the influence of Japanese art, particularly tusche paintings.
Despite the desire to achieve an art for all and allow for some industrialised manufacturing, often unique or small series were made. These were mainly the work of craftsmen such as woodworkers, sculptors, workers in marquetry, and so expensive and accessible only to the wealthier.
Art Nouveau arose almost simultaneously in most West European societies. Here is a list of proponents in several countries:
In France
the fin de siècle [end of century] movement, Hector Guimard and his designs for Paris Metro entrances, René Lalique's jewellery
In Britain
Walter Crane, Arthur Mackmurdo, Arthur Lasenby Liberty, Charles Ashbee, Aubrey Beardsley, Charles Rennie Mackintosh, the PreRaphaelite painters, William Morris and the Arts and Crafts Movement
In Belgium
Franch Theophile Alexandre Steinlen, Alphonse Mucha, Victor Horta, Henry van de Velde
In Spain
Antoni Gaudí, Modernisme
In Austria
Gustav Klimt, Koloman Moser, Josef Hoffmann, Secessionism
In Germany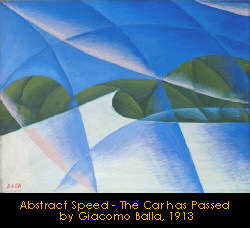 Hermann Obrist, August Endell, Jugendstil
In Italy
Giacomo Balla, Boccioni, Futurists
In the Netherlands
Piet Mondrian
In United States
Rookwood Pottery of Cincinnati, Tiffany Studios of New York City, Louis Sullivan
art nouveau furniture
Fundamental elements of Art Nouveau design are the line and the curve. Slim and stringy iron constructions were invented. Horta used lines and curves as graphical ornaments, Guimard tried to bring lines into space and created compositions of iron, glass, and air. However, van de Velde considered a dynamic, abstract line as intrinsic construction element. He said:
"A line is a force, acting like all elementary forces; several associated but antagonising lines provoke the same as antagonising forces."
Thus, the legs of furniture are usually made of curves, flaring outwards, that the plan is often curved, sinuous moulding and carved decoration or applied bronzes, well integrated to the structure, Walnut, oak and above all pear, tamarind or mahogany wood are preferred.
timeline
1885 Beginning of the construction of Sagrada Familia

by Gaudi in Barcelona

1889 The Eiffel Tower is built for the Paris World's Fair.



1893 Paris Japanese prints exhibition organized by Siegfried Bing.

Henri de Toulouse-Lautrec paints Jane Avril at the Jardin de Paris.
Posters by Toulouse-Lautrec for the Moulin-Rouge.
Lithograph by Bonnard for the White Review.


1894 Claude Debussy completes L'après-midi d'une faune


1895 The Lumière brothers screen the

first moving picture, of workers leaving a factory.
René Lalique designs Dragonfly woman corsage ornament.
Poster by Mucha for Sarah Bernhardt.


1896 Opening of the gallery Art nouveau

by Seigfreid Bing in Paris

1898 Guimard builds the Manor house

Béranger, first Art Nouveau building in Paris.
Jewels by Lalique.


1899 Ceramics by Gauguin.

Furniture by Majorelle, lamps and objects by Tiffany.


1900 Paris: Loïe Fuller Pavilion, Pavilion Bing, and other Art

Nouveau designs triumph at the World's Fair.
Paris metro opens using Hector Guimard's Metro station entrances.

1903 Pierre and Marie Curie share Nobel Prize

for discovery of radium.


1905 Exhibition at Salon d'automne by artists

named collectively, les fauves.
further related documents:
The Pyrénées mountain range
rampe mobile, Biarritz
art deco
between the wars 1920-1939