what is art deco? a short historical introduction
Art Deco is a popular international design movement that started in the early 1900s as a reaction, a rebellion, against the decorated swirls and ornament of Art Nouveau.
While Art Nouveau's swooping curved lines were pervasive and dominant, Art Deco used geometric shapes, as well as streamlined and minimal arcs. Another contrast between the two styles was that Art deco artists designed their works to be mass-produced, Art Nouveau works had been handmade and crafted, often using exotic and rare materials.
The design movement of Art Deco began as an amalgam of many different styles and movements of the early 20th century, including including Art Nouveau, Constructivism, Cubism, Modernism, Bauhaus, De Stijl, and Futurism. Essentially, Art Deco was a modernisation process of many artistic styles and themes from the past: Far and Middle Eastern design, Greek and Roman themes, as well as those of ancient Egypt and Maya.
This modernisation stylised machine patterns and shapes such as gears and wheels, and natural objects such as sunrays and flowers. A meta-style evolved that could be characterised as 'Speed' - streamlining was paramount, while parallel lines indicating speed were on buildings and every day objects, such as cars, locomotives, furniture and kitchen equipment.

The Art Deco movement derives from the title of the seminal Paris World Fair exhibition held between April and October 1925, the Exposition des arts décoratifs et industriels. Here, over 16 million visitors were introduced to the concept of industrial and interior designers. The architect Le Corbusier designed the Pavilion de L'Esprit Nouveau.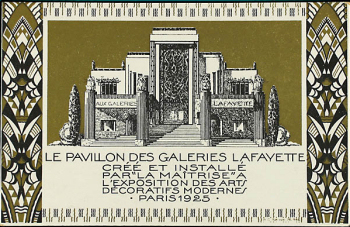 Maurice Dufrêne, head of interior design for the Galeries Lafayette and Primavera chain of department stores, who compiled the catalogue of interior design exhibits at the 1925 Expo, said: "The domain of 1900 art was fantasy, while that of 1925 is the domain of reason."
However, during the exposition, two trends dominated: the first influenced by the language of Art Nouveau - the Sybaritic trend, and the second distinguishing itself by an innovative vocabulary borrowed from cubism and Russian constructivism - the revolutionary trend.
From its early days after World War One, Art Deco developed and grew so the 1925 exhibition showed a great coherence of design. Its commercial popularity enabled designers and manufacturers to promote the Art Deco style well into the 1930s.
In both Britain and the United States of America, the 1930s were the period when Art Deco matured, with many buildings and other artifacts made in Art Deco style.
Thus, towns newly developed during this period often incorporated much Art Deco architecture and styling, a smaller example being the French town of Morcenx, where all the central municipal buildings were but in 1937.
As a term, Art Deco was coined by by art historian Bevis Hillier. He later popularised the phrase in his book Art Deco of the 20s and 30s, published in 1968.
During the 1920s and 30s, this design style was generally known as the Style Moderne or Art Moderne, or sometimes Zigzag modern or Jazz modern. These latter terms reflect the geometric lines, novel until the 1920s, that became well established in the 1930s.
art deco motifs and trends
motifs
Based on mathematical, geometric shapes, many Art Deco designs and patterns were influenced by a variety of sources:
primitive: Africa, Ancient Egypt, and Aztec Mexico, exotic woods
modern: Machine Age, streamline technology, aviation, electric lighting, radio, ocean liners, skyscrapers
man-made materials, embodying the machine: particularly glass and stainless steel, as well as Bakelite. Designs were driven by the needs of machines and production-line manufacture, not just by artistic creativity
In contrast to Art Nouveau's organic, flowing curves and asymmetries, Art Deco motifs were based on symmetry, repetition, geometric shapes, jazz-age zigzags, vertical lines as captured in stylised frozen fountains, speeding cars.
The designers incorporated various distinctive yet simple, geometric motifs, constrained with:
stepped and zigzag forms
sunbursts, often as a rising sun with broad rays
multi-striped decorative elements
vertical lines
much black decoration, combined with
vivid colours, especially orange and black
chrome-plated metals
neon and other modern lighting forms