the Eiffel passerelle
There is also the iron railway bridge, the Passerelle Eiffel, completed by Gustave Eiffel in 1858 [his first construction project, when he was 26 years old]. It has been'retired' by cutting of the access at each end. This bridge, in former days, was known as the metal bridge [le pont metallique] and as the iron bridge [le pont de fer].

By the 20th century, an external footbridge and access stairs had been added to the Passerelle Eiffel
The Eiffel Passerelle took trains to the Gare du Midi, now called the Gare St-Jean.

Trams and horse-drawn taxis waiting for passengers at the Gare du Midi
three generations of trams at bordeaux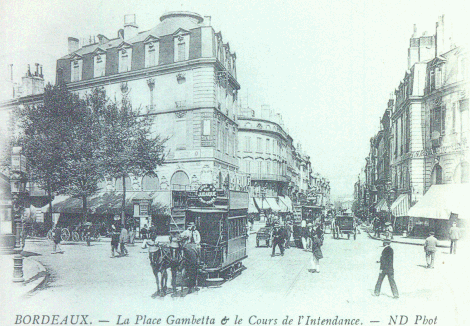 The first tramway system in Bordeaux began in 1880 with horse-drawn trams.
The horses were replaced, in due course, by a rudimentary form of ground-level electricity supply as the means of propulsion. By 1946, there were 38 tram lines, totalling 200 km, that carried 160,000 passengers a day.
In 1947, an anti-tram mayor, Jacques Chaban-Delmas, was elected and the lines were closed one after another. The last line was closed in 1958, because of their hindrance to cars and the annoying rails set in the roads.
Despite the "all car" policy being a disaster, Bordeaux had to wait for the election of a new mayor, Alain Juppé in 1995 before the transport policy would change. The modern tram system of Bordeaux opened in 2003, with dedicated, separate tramlines. There is a ground-level power supply in central Bordeaux to avoid unsightly overhead cabling, so often to be seen in France, while in outer Bordeaux there are grassed tracks and overhead lines.

Image: izzyguide

transporter bridge
To unite the two sides of the Garonne, the first bridge built was the Pont de Pierre - the Stone Bridge. Towards the end of the nineteenth century, it was decided to build a transporter bridge, similar to those then recently built at Nantes and Marseilles (both since demolished). Transporter bridges allow large and tall ships to pass without hindrance. [The French for transporter bridge is pont transbordeur.]
The foundation stone of this Bordeaux transporter, or suspended car, bridge was laid in 1910. But today there is almost no trace of this bridge, once intended to be the biggest in the world of its type.
abelard.org has a separate page about this historic bridge at a dream unfulfilled - the transporter bridge [pont transbordeur], Bordeaux