(to Giro d'Italia web site)
cycling tactics

The Tour de France 2017, Russian mountains on steroids!

the italian giro
The Giro d'Italia, the Tour of Italy, is the first of the major three-week tours - The Giro d'Italia, the Tour de France, the Vuelta d'Espana - in the annual repertoire of international cycle races.
For the first time ever, a Grand Tour will start outside of Europe.
It's the 13th time that Giro d'Italia starts outside of Italy.
Israel will host the first three stages of next year's Corsa Rosa, beginning with an Individual Time Trial in Jerusalem.
This first stage pays tribute to legendary Italian cyclist, Gino Bartali, a three-time winner of the Giro d'Italia. Bartali helped rescue hundreds of Italian Jews during the Holocaust and was recognized by Yad Vashem in 2013 as Righteous Among the Nations.




The individual time trial in Jerusalem takes a very technical route finishing close to the walls of the Old City. With numerous bends on streets of the city and small ascents and descents, the route will pass by landmarks including the Parliament (Knesset) and the historic walls.


Israel - Giro d'italia 2018, stages 1, 2, 3 - 1:05 mins

The second stage follows the coast, the last few kilometres partly within the city of Tel Aviv and the finish line on the straight seafront.
Stage 3 takes the peleton to the Negev Desert and then to the Red Sea coast and Eilat.




The Giro then moves to the the island of Sicily, visiting Mount Etna, Europe's largest volcano (3,346 m high, covering an area of 1,250 km), and one of the most active volcanoes in the world. The race then progresses northwards through mainland Italy.


The official race guide, in Italian and English, is available online.
The race will finish in Italy's capital city of Rome. This has only happened 3 times before, in 1911, in 1950 and in 2009.
Six high mountain stages and six medium mountain stages.
Eight summit finishes, to stages 6, 8, 9, 11, 14, 15, 18, 19.
The highest peak, 2758 m, the Cima Coppi, is the Stelvio Pass at Delle Finestre on stage 16.
Seven stages for the sprinters including stages 2, 3 7, 13.
Two individual time trials, on the first and sixteenth stages.
The race travels 3,546.2 km in total, averaging 168.9 km a day.

Giro d'Italia 2018 - race map


For larger version of this chart with links to each stage's map, profile and other data.
During each stage, the race can be followed 'live' on the Giro d'Italia web site.

ride green
Ride Green is the environmental initiative, now in its third edition, of the Giro d'Italia. At stage arrivals, the culture of recycling and recycling is promoted. Last year, 84% of the collected materials were recycled
The Giro d'Italia is continuing to demonstrate its green credentials, including encouraging conservation recycling. "The recycling eco-sustainable project, run throughout last year's Giro d'Italia in collaboration with Erica Cooperative, was a great success and collected 84,877kg of litter, of which 89% was recycled."
This year, 1,200 recycling bins are being sent to each stage start and finish towns and cities, the bins being marked with the Ride Green logo. Further, all the open village and hospitality areas will also be provided with recycling bags and boxes, and recyclable and biodegradable utensils for food and drink. Plus, all cardboard for dvertising panels etc. will be made in recycled cardboard.
a bit on politics
Israel is a relatively young country, born in 1947, 50 years after a sovereign state for the Jewish people was was first set out in the Balfour memorandum in 1917.
The Balfour Declaration, 2 November 1917
"His Majestys Government view with favour the establishment in Palestine of a national home for the Jewish people and will use their best endeavours to facilitate the achievement of this object, it being clearly understood that nothing shall be done which may prejudice the civil and religious rights of existing non-Jewish communities in Palestine or the rights and political status enjoyed by Jews in any other country."

"Britain was given a mandate for Palestine, with the aim of fulfilling the Balfour Declaration. But Winston Churchill was also negotiating with Arab leaders about their demands for land, and so he had the details redrafted: Britain was no longer obliged to foster a Jewish state east of the Jordan River. At the same time, Britain also surrendered land in the north of Palestine, handing it to France, which had been given a mandate for Lebanon.

"The upshot was that in 1921 the land east of the Jordan River – forming 75 percent of Palestine – was hived off as Transjordan. It was meant to be temporary, to provide a haven for Abdullah, one of the Arabian princes at war with each other." [Quoted from haaretz.com]

In the countries around Israel, Jews have been persecuted using the excuse of Israel's existence. In contrast, Israel has taken in arabs - the arab population of Israel is 20%.

Arab countries, who have huge relative populations, have tried driving Israelis into the sea, and kept losing.

The productive and creative output of the whole arab world is trivial. Their countries are invariably run as backward dictatorships.

Israel is an advanced democracy.

There is no genuine problem with Israel.

Although Tel Aviv is, currently, the capital of the modern state of Israel, there is a drive to tansfer that capital status to the ancient and historic city of Jerusalem. Jerulsalem is shared by Jews, Muslims, Christians, and Armenians.
"[Giro organisers] RCS Sport's top brass in Milan are considering a "plan B" in case the political situation does not improve, according to sources. Violence, protests, and international condemnation have increased in the last week since U.S. President Donald Trump recognized Jerusalem as Israel's capital. Israel has always considered Jerusalem its capital but Palestine claims East Jerusalem — occupied by Israel since the 1967 War — as the future capital of a long-sought Palestinian state."
—
"RCS Sport is reportedly considering a worst-case-scenario plan B option that could see the race start in Italy's south."
[Quoted from velonews.com]
this year's stages
21 stages are planned, with six high mountain stages, six medium mountain stages, seven hilly stages, two individual time trial (stages 1 and 16), and seven stages for sprinters. There will be two rest days. All other days are flat stages, or transition days between flat and mountain stages. The total distance ridden will be 3,546.2 km, or roughly 2204 miles.
1

Israel

: Jerusalem – Jerusalem
Fri 4 May [10.1 km/6 mi]
individual time trial (ITT)

11

Assisi – Osimo
Wed 16 May [156 km/97 mi]
'summit' finish
for Michele Scarponi

2

Israel

: Haifa – Tel Aviv
Sat 5 May [167 km/104 mi]
sprinters' stage

12

Osimo – Imola ( Autodromo Enzo e Dino Ferrari)
Thu 17 May [213 km/132 mi]

3

Israel

: Be'er Sheva – Eilat
Sun 6 May [226 km/145 mi]

13

Ferrara – Nervesa della Battaglia
Fri 18 May [180 km/112 mi]
sprinter's stage

R

Rest / travelling day [southern Italy]
Mon 7 May

14

San Vito al Tagliamento – Monte Zoncolan
Sat 19 May [181 km/112 mi]
summit finish - 1730 m

4

Italy

: Catania, Sicily – Caltagirone
Tue 8 May [191 km/119 mi]
uphill finish

15

Tolmezzo – Sappada
Sun 20 May [176 km/109 mi]
summit finish - 1250 m

5

Agrigento –- Santa Ninfa
Wed 9 May [152 km/94 mi]
uphill finish: 570 m

R

Rest day
Mon 21 May
6
Caltanissetta – Mount Etna
Thu 10 May [163 km/101 mi]
summit finish: Ossovatorie Astrofisico, 1736 m

16

Trento – Rovereto
Tue 22 May [34.5 km/21 mi]
individual time trial (ITT)

7

Pizzo – Praia a Mare
Fri 11 May [224 km/139 mi]
sprinters' stage

17

Riva del Garda – Iseo
Wed 23 May [155 km/96 mi]
sprinters' stage

8

Praia a Mare – Montevergine
Sat 12 May [209 km/130 mi]
summit finish: 1260 m

18

Abbiategrasso – Prato Nevoso
Thu 24 May [196 km/122 mi]
summit finish - 1607 m

9

Pesco Sannita – Gran Sasso
Sun 13 May [224 km/139 mi]
summit finish: 2135 m

19

Venaria Reale, Turin – Bardonecchia
Fri 25 May [181 km/112 mi]
Cima Coppi [2178m] & summit, Mont Jafferau - 1290 m

R

Rest day
Mon 14 May

20

Susa – Cervinia (foot of Matterhorn)
Sat 26 May [214 km/133 mi]
summit finish - 2001 m

10

Penne – Gualdo Tadino
Tue 15 May [239 km/149 mi]

21

Rome – Rome
Sun 27 May [118 km/73 mi]
10 laps!

The 2018 Giro route 5:53 mins

mountain stages - summit and uphill finishes
Stage 6 ends on Mount Etna at the Astronomical Observatory.
Stage 8 : For the last 55 km, the route starts to climb (with varying degrees of gradients) all the way to the outskirts of Avellino. The summit finish has an average 6% gradient, and is marked by a series short straight stretches connected by mild bends alternating with 18 hairpins. The final 150m has 5% gradient.
Stage 9 : The Gran Sasso will be the "Montagna Pantani" of the 2018 Giro d'Italia, recalling Marco Pantani's cycling during the eighth stage of the 1999 Giro, when he dropped every single rider in the front peloton and clinched a solo win, shortly before he was removed from the race for anomalous blood results! Pantani died in 2004 of a drug overdose.
Stage 11 An honorary (?) summit finish on this stage dedicated to Michele Scarponi who died on 22 April 2017, hit by a vaan when out training on his bike.
Stage 14 Three major climbs, the last - Monte Zoncolan - being regarded as the hardest climb in Europe - average 12% gradient for 10 km, peaks max. at 22%.
Stage 15 Riding across the Dolomite mountains with several consecutive climbs : Passo della Mauria, Passo Tre Croci, Passo di Sant' Antonio (for the first time along this side, with gradients exceeding 10% over long stretches) and Costalissoio (short and very steep).
Stage 18 The last climb up the Prato Nervoso is the only climb of the day, a sudden transition from flat valley roads to slogging up 7, 8, 9% gradients to the fiinish.
Stage 19 Gripping and spectacular to watch, with 45 hairpins on the Colle delle Finestre, including 9 km on unpaved (gravel) roads. The peak is the Cima Coppi, the highest point on this year's race.
Stage 20 After 130 flat kilometres, the Col Tsecore (16 km with long stretches exceeding 12% over the last 4km) and Col de Saint-Pantaléon (16.5 km at 7.2%) are preludes to the last climb to Cervinia (19 km at 5%) .
Profiles at for these stages are shown below.

Stage 6

Tue 10 May, Caltanissetta – Mount Etna
(Ossovatorie Astrofisico), 163 km]


Final 15 km includes passage of 15% and 14% while rising 978 m.

Stage 8

Sat 12 May, Praia a Mare – Montevergine
209 km




Final 5 km includes passage of 10% while rising 178 m.

Stage 9

Tue 14 May, Pesco Sannita – Gran Sasso, 224 km



Roccaraso: 8.9 km at 6.2, with steepest ramps of 12%.

Final climb: 10 km at 4%;
3 km at 4.1%.
Last 4.45 km averages 8,2%, with 13% ramp at 1.5 km before finish.

Stage 11 Thu 17 May, Assisi – Osimo, 156 km



The last 5 km starts with a steep ramp of 300m at 16% gradient on cobbles.
A little later, there's further 1km ramp of 14% gradient before 300m flat finish..

Stage 14

Sat 19 May: San Vito al Tagliamento – Monte Zoncolan, 181 km


Monte di Ragogna: 10% gradients for first 2.5km, and ramps topping out at 16%.
Passo Duron: short yet steep climb, with gradients peaking 18% at points.
Monte Zoncolan: 10km of av. 12% gradient, peaking 22% at points.
Final km has three short tunnels (150m – 60m – 110m long).

Stage 15

Sun 20 May: Tolmezzo – Sappada, 196 km



Passo della Mauria:8.8 km at av. 4.4% with, at 4km, 9% gradient.
Passo Tre Croci: 8.1km with av. 7.1%. gradient.
Passo di Sant'Antonio: first 5 km at 9.4, complete climb 8.3 km at av. 7.5% gradient.
Costalissoio: 2.5 km at 10.6%, then 5.6%.
Final 7.2 km: av. 3.4% gradient, but from 4.5 km to 3.5 km is 8.2%.

Stage 18

Thu 24 May: Abbiategrasso – Prato Nevoso, 196 km



Prato Nervoso: first 2.5 km at 5.5%, then around 8%.
At 13.9 km, av. grad.7%.


Stage 19

Fri 25 May: Abbiategrasso – Prato Nevoso, 181 km

Colle delle Finestre: 18.9 km, av.grad. 9 - 10%
Mont Jafferau: 7.2 km climb, av. grad. 9%, with final 500 m at 11.6%.


Stage 20

Sat 26 May: Susa – Cervinia (foot of Matterhorn), 214 km





Col Tsecore: 16 km, av. gradient 7.7%, with last 5 km at 9.3%.
Col de Saint-Pantaléon: 16.5 km at av. 7.2%, last 2 km 8.9%
Cervinia: 19 km at av. 5%, max. 9.3%
this year's favourites
Favourites for 2018 include Chris Froome (Team Sky) who wants to win his third Grand Tour running after last year's Vuelta d'Espagna and Tour de France; Tom Dumoulin (Team Sunweb) defending champion of the Giro, Fabio Aru (UAE Team Emirates).
Other strong riders include Miguel Ángel López (Astana), George Bennett (LottoNL–Jumbo), Thibaut Pinot (Groupama–FDJ), Wout Poels (Team Sky), Simon Yates and Esteban Chaves (both Mitchelton–Scott), Louis Meintjes (Team Dimension Data), Michael Woods (EF Education First–Drapac p/b Cannondale), Davide Formolo (Bora–Hansgrohe), Rohan Dennis (BMC Racing Team) and Domenico Pozzovivo (Bahrain–Merida).

first ten riders in the 2017 giro
Tom

Dumoulin

| NED | Team Sunweb | 90h 34' 54"
Nairo

Quintana

| COL | Movistar Team | + 31"
Vincenzo

Nibali

| ITA | Bahrain–Merida | + 40"
Thibaut

Pinot

| FRA | FDJ | + 1' 17"
Ilnur

Zakarin

| RUS | Team Katusha–Alpecin | + 1' 56"
Domenico

Pozzovivo

| ITA | AG2R La Mondiale | + 3' 11"
Bauke

Mollema

| NED | Trek–Segafredo | + 3' 41"
Bob

Jungels

| LUX |Quick-Step Floors | + 7' 04"
Adam

Yates

| GBR | Orica–Scott | + 8' 10"
Davide

Formolo

| ITA | Cannondale–Drapac | + 15' 57"

the classification jerseys, 2018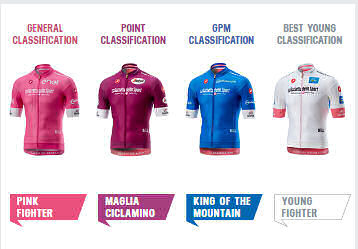 The overall winner's jersey is pink, like the paper on which the original sponsors' newspaper is printed - pink for like the dawn of a champion.
The points jersey is now cyclamen again - "like a flower and also a fruit, like a thought and already a memory, like a desire and already like nostalgia, like a full stop and already like a semi-colon and a new paragraph, like a goal we are aiming for today, tomorrow, forever".
The best climber's jersey is the blue of the sky to which they are climbing - blue but not still, like the water in a lake among glaciers.
The best young rider's jersey is white like a symbol of freshness and even innocence, of brightness and possibly candour, of youth and perhaps shyness..

the teams
All eighteen UCI WorldTeams are participating in the 2017 Giro d'Italia.
There are also four wild card teams from UCI Professional Continental Circuits:

CCC–Sprandi–Polkowice (POL)
Gazprom-RusVelo (RUS)
Wilier Triestina–Selle Italia (ITA)
Bardiani–CSF (ITA)
| | | |
| --- | --- | --- |
| UCI team | country | code |
| AG2R La Mondiale | FRA | ALM |
| Astana | KAS | AST |
| Bahrain–Merida | BRN | TBM |
| BMC Racing Team | USA | BMC |
| Bora–Hansgrohe | GER | BOH |
| EF Education First–Drapac p/b Cannondale | USA | EFD |
| Team Dimension Data for Qhubeka | RSA | DDD |
| Groupama–FDJ | FRA | GFC |
| Team Katusha–Alpecin | SWI | KAT |
| LottoNL–Jumbo | NED | TLJ |
| Lotto-Soudal | NED | TLJ |
| Movistar Team | BEL | LTS |
| Mitchelton–Scott | AUS | MTS |
| Quick-Step Floors | BEL | QST |
| Team Sky | GBR | SKY |
| Team Sunweb | GER | SUN |
| Trek–Segafredo | LUX | TFS |
| UAE Team Emirates | UAE | UAD |

Watching the Giro - on the roadside, on TV
Watching the Giro in Italy is very similar to watching the Tour in France. abelard.org has several pages giving general advice on how to be a effective road-side spectator.
Daily live TV coverage will be available from British Eurosport (subscription required), while their freeview channel, Quest, to show highlights of each stage at 22:00 BST.