"Yorkshire, land of inspiration" ☺
The hundred and first edition of the Tour de France starts with the first three stages in the land of its neighbour across "La Manche", its favourite enemy and rival, its saviour in two world wars - England.
The first two stages will be held in England's largest county Yorkshire, running from Leeds to Harrogate on the 5th July and from York to Sheffield on the 6th July. The third English stage will run from Cambridge to London,
2014 tour de france route
From Saturday 5 July to Sunday 27 July, 2013, the 101th Tour de France will be competed during 21 stages, over a distance of 3,656 kilometres.
There will be:
9

flat

stages
5

hilly

stages
6

mountain

stages with 5 summit finishes
1

individual

time trial stage
2 rest days
There are 9 towns not previously visited :
Leeds (start of stage 1)
Harrogate (finish of stage 1)
York (start of stage 2)
Sheffield (finish of stage 2)
Cambridge (start of stage 3)
Ypres (finish of stage 5)
Oyonnax (finish of stage 11)
Risoul (finish of stage 14)
Maubourguet Pays du Val d'Adour (start of stage 19)
The 2014 Tour de France begins by spending three days in England, with the first day starting from Leeds. Yorkshire is preparing for a grand celebration of their county and its heritage - churches, villages, people, songs, landscapes, a positive rave-up. Because the roads are closed for so much of the day, locals are making the best of things with fêtes, concerts and cycling and Tour-themed events and displays. Nine helicopters will be filming from the air, picking out some of the more picturesque churches and villages for the TDF broadcasts.
One jolly, on-going event on both days will be the ringing of church bells as the caravan and then the riders pass. The churches ringing out on Saturday 5th July will be Leeds St Annes, Leeds Minster, Chapel Allerton, Otley, Ilkley, Addingham, Rylstone, Grinton, East Witton, Masham, West Tanfield, Ripon Cathedral, Harrogate St Peters; while on Sunday 6th July it's the turn of York Minster, York St Wilfrid, York St Martins, Knaresborough, Harrogate St Peters, Harrogate St Wilfrids, (Blubberhouses, to be confirmed), Addingham, Silsden, Keighley, (Haworth, to be confirmed), Oxenhope, (Mytholmroyd, to be confirmed), Ripponden, Holmfirth, (Bradfield, to be confirmed), Sheffield Cathedral.

The first Yorkshire stage heads northwest out of the city centre and into the Yorkshire countryside, labouring to find history and landscapes as impressive as those of France - Harewood House, Skipton,Yorkshire Dales National Park, the cathedral city of Ripon, with a straight line finish at "the spa town" of Harrogate. A flat stage, this is one for the sprinters.
Stage Two starts from the walled city of York, passing through Harrogate again (note that Yorkshire may be large, but it's not large enough to prevent repeats) and on to cultural Haworth, home of the Brontë sisters, and then to Huddersfield. Then there will be some climbs to reach another National Park, the Peak District, on the edge of the Pennines. The stage finishes in Sheffield, dubbed by the TDF as "the UK's first city of sport". With nine categorised climbs, Stage Two is for the climbers, who'll be riding a veritable switchback (or des montaignes russes in French).
The third, mostly flat, stage runs from the university city of Cambridge, going through Cambridgeshire, Hertfordshire and Essex. The race enters Greater London from Epping Forest. Passing the Olympic Park and the Velodrome, this tourist stage will have views of the Thames, Tower Bridge, the Tower of London, Big Ben, the Palace of Westminster and Westminster Abbey. As is becoming traditional, the final stretch is through St James's Park, round past Buckingham Palace to finish on The Mall.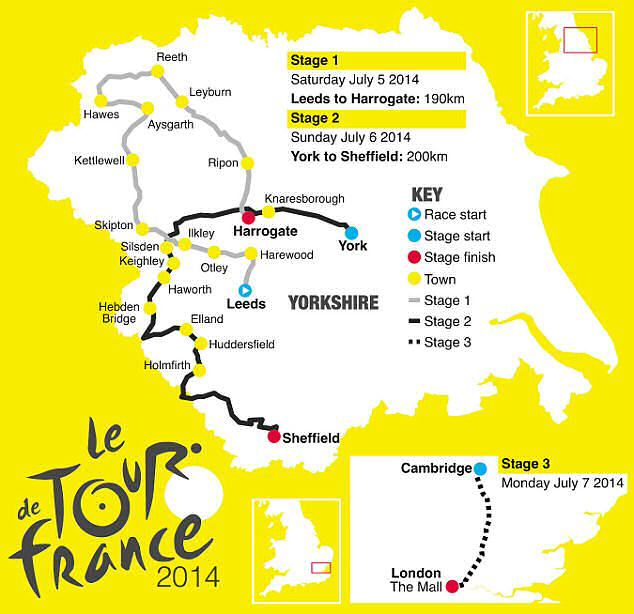 great war commemorations
The French part of the Tour de France starts in the north-east, paying its respects to to those who died in World War One on the 100th anniversary year of the Great War's start. Stage 4 is in Belgium - starting at Ypres, bitterly fought over in WW1, and will ride on the Chemin des Dames ridge where unexploded bombs are still found. The peleton will also cross the Verdun battlefields where 700,000 were killed or wounded in 10 months of intense fighting.
the stages for 2014
There will be 21 stages. These include 6 high mountain stages [ Vosges 2, Alps 2, Pyrenees 2], 5 medium mountain/hilly stages, but only one individual against-the-clock (stage20) [contre-le-montre] time trial. There are 2 rest days (15th and 21th July). All other days are 'on the plain' - relatively flat days, almost touring through France. The total distance ridden will be about 3,656 kilometres, or roughly 2272 miles.

Pavé/cobbled road. Image: eurosport.fr
The fifth stage, ending at Arenberg Porte du Hainaut, includes 15.4 km of cobbled roads in nine sections, known better as part of the route for the annual Paris-Roubaix race.
Stages eight to ten are in the Vosges mountains, stages 11 to 14 are in the Alps, while stages 16 to 18 are in the Pyrenees.
1

England : Leeds > Harrogate
5 July [191 km]

12

Bourg-en-Bresse > Saint-Étienne
17 July [183 km]
2
England : York > Sheffield
6 July [198 km]

13

Saint-Étienne > Chamrousse
18 July [200 km]
summit finish

3

England : Cambridge > London
7 July [159 km]

14

Grenoble > Risoul
19 July [177 km]
summit finish

4

Le Touquet-Paris-Plage > Lille
8 July [164 km]

15

Tallard > Nîmes
20 July [222 km]

5

Yprès >Arenberg Porte du Hainaut
9 July [156 km]

R

rest day - Carcassonne
21 July

6

Arras > Reims
10 July [194 km]

16

Carcassonne > Bagnères-de-Luchon
22 July [237 km]

7

Épernay > Nancy
11 July [233 km]

17

Saint-Gaudens > Saint-Lary-Soulan Pla d'Adet
23 July [125 km]

8

Tomblaine > Gérardmer La Mauselaine
12 July [161 km]
summit finish

18

Pau > Hautacam
24 July [145 km]
summit finish

9

Gérardmer > Mulhouse
13 July [166 km]

19

Maubourguet Pays du Val d'Adour > Bergerac
25 July [208 km]

10

Mulhouse > La Planche des Belles Filles
14 July

20

Bergerac > Périgueux
26 July [54 km]
individual time-trial

R

rest day - Besançon
15 July

21

Évry > Paris Champs-Élysées
27 July [136 km]

11

Besançon > Oyonnax
16 July [186 km]
this year's t-shirts
In amongst this year's ever-growing collection of TDF t-shirts can be found two that have some theme connection with this year's Tour. Somewhat oddly, the t-shirt for the United Kingdom is drab and, one could even say, scruffy. Is this a hint of France's opinion of their neighbour?
.
United Kingdom motif t- shirt : 22€
The Paris-themed t-shirt is much more gai.
.
Paris motif t- shirt : 22€

There is also a t-shirt based on this year's poster:
.
Tour de France t- shirt : 22€

the teams for 2014
As well as the eighteen "ProTeams", invitations have been extended to four 'wildcad' teams:
Bretagne-Séché Environnement (Fra)
Cofidis (Fra)
IAM Cycling (Sui)
Team Netapp – Endura (Ger)
team jerseys/colours

2014 TDF team jerseys
this year's top ten seeded riders
The younger cyclists are starting to show their abilities, established riders need to watch out!
Name
UCI Team Code
Nat.
Comments
1
Chris FROOME
SKY
GBR
29 y.o. Winner of 2013 TDF, 2nd in 2012 TDF, bronze medal in 2012 Olympics time trial, 4th in 2012 Vuelta.
Strong climber and time-trialer, not as good tactically as Contador.
2
Alberto CONTADOR
TST
ESP
31 y.o.Won 2012 Vuelta. Stripped of 2010 TDF and 2011 Giro titles for doping.
Strong climber, but weaker at time trials.
3
Vincenzo NIBALI
AST
ITA
29 y.o. "The shark from the strait" - "le requin du détroit"
Winner of 2013 Giro d'Italia, 2nd in 2013 Vuelta, 3rd in 2012 TDF.
4
Tejay VAN GARDEREN
BMC
USA
25 y.o. Winner of 2013 Tour of California and 2013 USA Pro Cycling Challenge. 5th in 2012 TDF and best young rider (White Jersey).
5
Alexandro VALVERDE
MOV
ESP
34 y.o. 8th in 2013 TDF, 3rd in 2013 Vuelta, Returned to racing in 2012 after 2-year suspension for doping.
6
Andy SCHLECK
TFR
LUX
29 y.o. Awarded winner 2010 TDF after Contador was found guilty for doping.
2nd in 2009 and 2011 TDF.
Schleck continues in a yet unsuccessful quest for winning legs after his 2012 Critérium du Dauphiné crash.
7
Jurgen VAN DEN BROECK
LTB
BEL
31 y.o. Abandoned the 2013 TDF after crashing, 4th 2012 TDF.
8
Bauke MOLLEMA
BEL
NED
27 y.o. 6th in 2013 TDF, 3rd in 2014 Tour of Norway.
A puncheur who should be suited to the TDF climbing programme.
9
Andrew TALANSKY
GRS
USA

25 y.o. Known as the "pitt-bull" for his tenacity.
1st in 2014 Critérium du Dauphiné in a breakaway, beating Chris Froome into 12th place. 10th in 2013 TDF.

10
Romain BARDET
ALM
FRA
23 y.o. Best young rider in 2014 Tour of Oman, 1st in 2014 La Drôme Classic, 5th in 2014 Critérium du Dauphiné, 13th in 2013 TDF.
watch tdf broadcasts
Here are a few of the more reputable sites that were available for the 2014 TDF.
terrestrial broadcasts

UK: ITV and ITV4 full schedule of live broadcasts.

EUROSPORT UK schedule for daily live TV coverage, including HD, often with some commentary. Starts at 11 am BST on 5 July.

FRANCE 2/FRANCE 3 (shared coverage) . Starts at 13:40 CET

Canada: Link to Sportsnet daily schedule.

USA: NBS Sports offers live on TV, as well as live streaming.

Australia: SBS schedule page.

x

live streaming through the Internet

There are many such providers that can be found by googling.

These sites may require signing up and payment. Some also need exploring to find the correct page/s.

Nowadays, mobile app.s are also available.

x

Eurosport is selling live steaming with their Eurosportplayer [in French], with various, almost reasonable subscriptions.

The Tour de France web site is providing a live, animated tickertape of the race action as it happens.

The TDF web site also has a YouTube channel with videos of stages to come and other short videos.
last year (2013): the first ten riders
Pos.
N°
Name
First name
Team
Nat.
Time diff.
1
1
FROOME
Chris
SKY
GBR
83h 56' 40''
2
128
QUINTANA ROJAS
Nairo Alexande
MOV
COL
+ 04' 20''
3
101
RODRIGUEZ OLIVER
Joaquin
KAT
ESP
+ 05' 04''
4
91
CONTADOR
Alberto
TST
ESP
+ 06' 27''
5
94
KREUZIGER
Roman
TST
CZE
+ 07' 27''
6
164
MOLLEMA
Bauke
BEL
NED
+ 15' 41''
7
63
FUGLSANG
Jakob
AST
DEN
+ 12' 17''
8
121
VALVERDE
Alejandro
MOV
ESP
+ 15' 26''
9
139
NAVARRO
Daniel
COF
ESP
+ 15' 52''
10
178
TALANSKY
Andrew
GRM
USA
+ 17' 39''
Overall
winner
FROOME Christopher
1
SKY
GBR
83h 56' 40''
(Yellow Jersey)
By points
SAGAN Peter
57
CAN
SVK
409 pts
(Green Jersey)

C

li

m

b

er

QUINTANA ROJAS Nairo Alexande

128
MOV
COL
147 pts
(Polka dot Jersey)
Under 25

QUINTANA ROJAS Nairo Alexande

128
MOV
COL
84h 01' 00''
(White Jersey)
Combativity

RIBLON Christophe

178
ALM
FRA
88h 00' 14"
Team
winner

TEAM SAXO-TINKOFF

DEN
251h 11' 07''
the mountain stages and summit finishes
Stage 8, 12th July- Tomblaine > Gérardmer La Mauselaine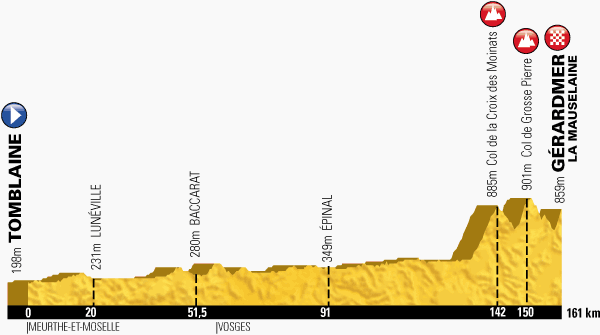 Profile for stage 8, Tomblaine > Gérardmer La Mauselaine
Km 142 - Col de la Croix des Moinats: 7,6 kilometre-long climb at 6%

Km 150 - Col de Grosse Pierre: 3 kilometre-long climb at 7,5%

Km 161 - Gérardmer La Mauselaine: 1,8 kilometre-long climb at 10,3%
Stage 10, 14th July - Mulhouse > La Planche des Belles Filles

Stage 10 profile, Mulhouse > La Planche des Belles Filles
Km 30,5 - Col du Firstplan: 8,3 kilometre-long climb at 5,4%
Km 54,5 - Petit Ballon: 9,3 kilometre-long climb at 8,1%
Km 72 - Col du Platzerwase: l7,1 kilometre-long climb at 8,4%
Km 104 - Col d'Oderen: 6,7 kilometre-long climb at 6,1%
Km 144 - Col des Chevrères: 3,5 kilometre-long climb at 9,5%
Km 161 - La Planche des Belles Filles: 5,9 kilometre-long climb at 8,5%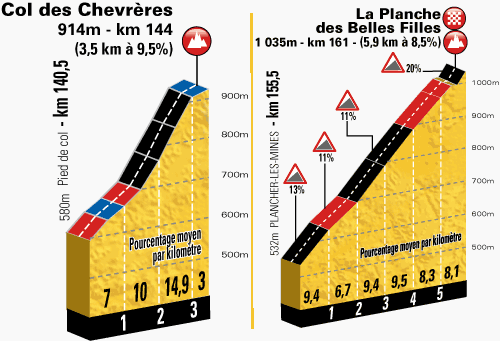 Stage 13, 18th July - Saint-Étienne > Chamrousse

Stage 13 profile, Saint-Étienne > Chamrousse
Km 154,5 - Col de Palaquit: 14,1 kilometre-long climb at 6,1%


summit finish



Km 200 - Chamrousse: 18,2 kilometre-long climb at 7,3%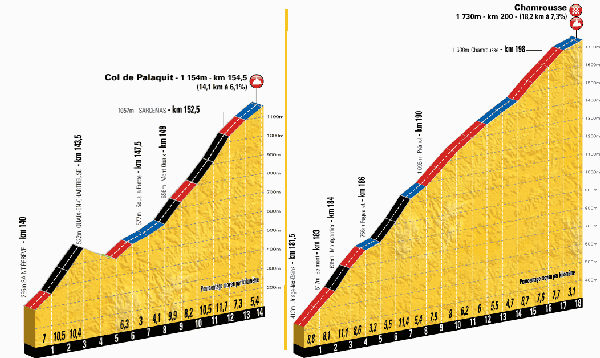 Stage 14, 18th July - Grenoble > Risoul
profile
Km 82 - Col du Lautaret: 34 kilometre-long climb at 3,9%
Km 132,5 - Col d'Izoard: 19 kilometre-long climb at 6%


summit finish



Km 177 - Risoul: 12,6 kilometre-long climb at 6,9%
Stage 16, 22nd July - Carcassonne > Bagnères-de-Luchon
profile
Km 155 - Col de Portet-d'Aspet: 5,4 kilometre-long climb at 6,9%


summit finish



Km 215,5 - Port de Balès: 11,7 kilometre-long climb at 7,7%
Stage 17, 23th July - Saint-Gaudens > Saint-Lary-Soulan Pla d'Adet

Stage 17 profile, Saint-Gaudens > Saint-Lary-Soulan Pla d'Adet
Of the 125 kilometres, forty will be made on slopes of more than 7%.
Km 57,5 - Col du Portillon: 8,3 kilometre-long climb at 7,1%
Km 102,5 - Col de Val Louron-Azet: 7,4 kilometre-long climb at 8,3%


summit finish



Stage 18, 24th July - Pau > Hautacam

Stage 18 profile, Pau > Hautacam
Km 95,5 - Col du Tourmalet: 17,1 kilometre-long climb at 7,3%


summit finish



Km 145 - Hautacam: 13,6 kilometre-long climb at 7,8%