les pyrénées aire
sketch map locating les pyrénées aire
le tour de france
Motorway aires are designed to provide a suitable environment for relaxing, refreshing and recovering during the long, hard journeys. As well as facilities of often dubious nature, picnic tables and seats, a telephone kiosk, there are often optional extras such as a play area or a display related to some local interest or event.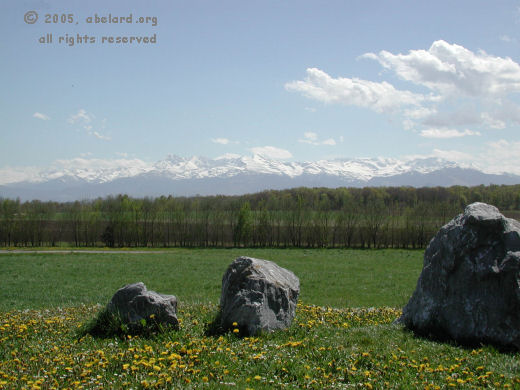 With a southerly view overlooking the Pyrénées mountain range, this aire is dominated by the enormous and dramatic sculpture celebrating the largest sporting event in the world, the Tour de France cycle race. Many of the more interesting (for spectators) races occur during the mountain stages.

Viewing the Tour sculpture by Jean-Bernard Métais (made from 30 tonnes of steel) at Les Pyrénées aire. Some of the panels giving a history and other information on Le Tour can be seen around the base of the sculpture.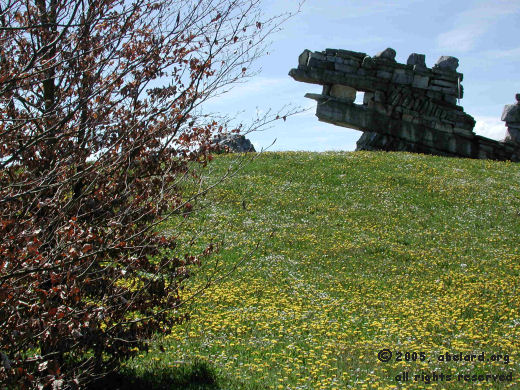 The climbing stones with a Spring carpet of dandelions
Les Pyrénées aire, while not among the very largest, is busy with 'features':
fine views over the Pyrénées, a neat little picnic area complete with climbing stones (closed off when abelard.org visited), a small shop to buy an over-priced postcard or two, fuel, and the colossal sculpture.
Although this aire is situated on the south (west to east) side of the A64 autoroute, it is accessible from both directions. Travellers on the north side of the motorway, going towards the Atlantic coast, take the slip road and bridge over the motorway.
The Pyrénées aire is in Département 64 - Pyrénées-Atlantiques, but only just. This aire is only about 2 km inside the border with Département 65 - Hautes-Pyrénées.
See also the Pyrénées mountain range

A closer view of the magnificent sculpture at Les Pyrénées motorway aire, A64. During the Spring, enterprising birds build their nests amongst the saddles - but the cyclists do not seem to mind.
Here at the abelard.org France Zone, there are illustrated web-pages describing and appreciating the greatest show on Earth, the Tour de France. Start reading here: Le Tour 1: the greatest show on Earth. This linked page points to the other pages on this modern wonder of man, machine and organisation.