While gold is a more stable store of value than paper (fiat) currencies, it still remains a market in which governments have a heavy presence. It is estimated that the world's central banks still hold about 30,000 tonnes of gold in their vaults. Of recent years, these banks have been dumping some of this gold onto the markets, either regarding gold as a non-performing asset, or attempting to manipulate the market. (Remember this activity is not fully co-ordinated, as the gold is spread around in many banks, who are, to some extent, in competition.) By one measure it has been estimated that, if the banks fully abandoned gold, gold might return to its price at the beginning of the 19th century - estimated at $68 per oz at today's prices (Economist, 30 May 2002).
In the graph above, you will see that the gold price from the early part of the 20th century was about $20 per oz, whereas the curent gold price is over $300 per oz. Thus presently (2002), you receive more than 15 times as many dollars for an ounce of gold. But you will see, from the US Consumer Price Index (C.P.I.) graph below, that the dollar has, in the meantime, been heavily eroded by inflation, until it is now worth no more than a twentieth of its value in the early part of the 20th century. Thus, taking into account the ever-shrinking value of the dollar, the 'real' price of gold has hardly changed in a century. Gold has not been exactly a brilliant investment, whatever its merits may be as a currency.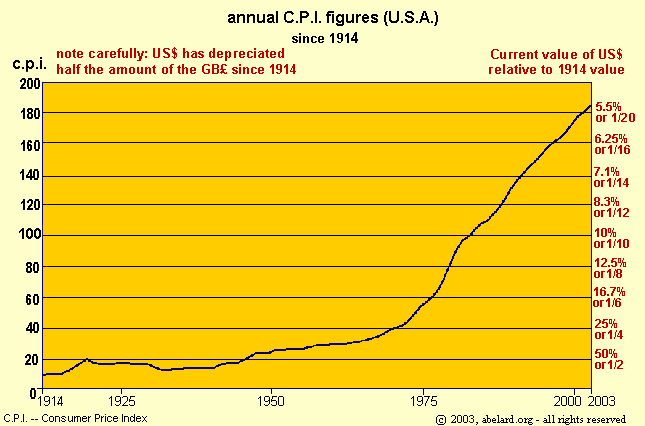 There exists a rather strange and esoteric clique known, somewhat disparagingly, as 'gold bugs'. These enthusiasts, and often sales people, promote the wonders of gold with very great passion, as a royal route to certain wealth beyond avarice. There is no such route, you are advised to approach gold with the same caution a wise person applies to any 'investment'/gamble. However, a comparison should also be made with the intrinsic value of the pieces of printed paper, or blips in bank accounts, that governments call money.
e-gold is a currency system, and serves the same purpose as the money in your purse or bank account. Unlike many other electronic exchange media, e-gold isn't just fiat government notes turned into bookkeeping blips. Nor is e-gold a paper currency subject to continual government inflation.
e-gold is a 100% gold-backed currency. Once you have bought some e-gold, it is available for you to use on the Internet, like electronic money. e-gold can be thought of as a foreign currency that has a value relationship to your usual currency and to other foreign currencies. See here for details of how your gold/e-gold is stored and managed.
e-gold is a private digital currency that enables global transactions. e-gold's internationality is achieved by two actions.
Firstly, by not using a national or government-controlled currency (such as US$, Euro or AU$) as the asset to back it, e-gold is independent of government.
Secondly, by having points of entry across the world by means of the Internet, any person can purchase with their own local currency some of this international currency. This they can then use to complete international private and business transactions. You will, in fact, be trading using gold as your money instead of a government paper currency. e-gold Ltd will handle your accounting transactions and you will be able to check the current value of your gold holdings equivalent, in other currencies.
e-gold isn't banking, so you won't be paid interest on the metal in your account. In fact, you'll have to pay small transaction and storage fees. (Opening the account is free and no starting deposit is required.). However, if you find a bank that handles e-gold as one of its range of currencies and you use them to hold your e-gold, you can receive interest. [1] (This possibility is still under investigation by www.abelard.org.)